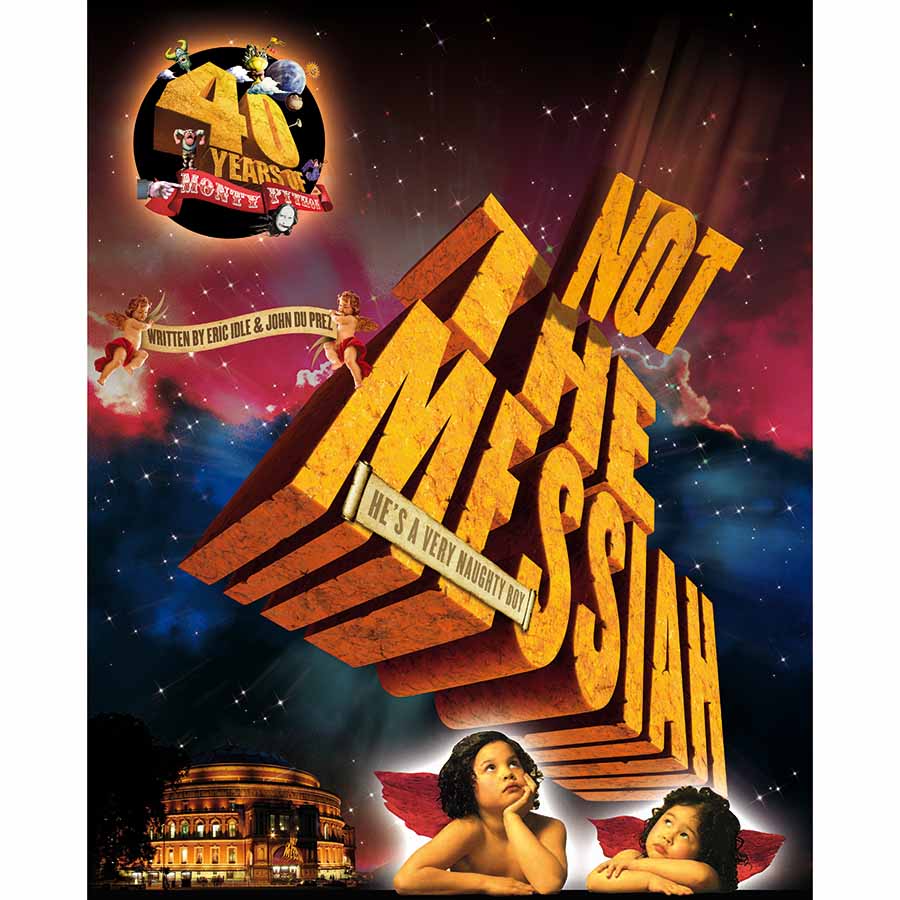 Not the Messiah (He's a Very Naughty Boy) (from 2007)
"Not the Messiah (He's a Very Naughty Boy)"
A comic oratorio by Eric Idle & John DuPrez based on "Monty Python's Life of Brian"
World Premiere: Luminato Festival, Toronto, Canada, 1 June 2007
London Premiere: Royal Albert Hall, 23 October 2009.

On the heels of the success of "Spamalot" (lovingly ripped off from "Monty Python and the Holy Grail"), Eric Idle and John DuPrez collaborated on an oratorio for soloists, chorus and orchestra inspired by "Life of Brian."

On With The Show 

Co-commissioned by the Luminato Festival and the Toronto Symphony Orchestra, "No the Messiah" is written in the flavor Handel's "The Messiah" ("All We Like Sheep" here becomes "We Love Sheep"), though with frequent musical digressions that parody Shostakovich, pop, doo wop groups, Bob Dylan, and bagpipe players.

The world premiere was conducted by Peter Oundjian, who is not only the Toronto Symphony Orchestra's music director, but also Idle's cousin.

Originally about one hour in length, the oratorio was expanded to 91 minutes before its presentations in Los Angeles, Australia, New York's Carnegie Hall, and elsewhere.

The 2009 performance at London's Royal Albert Hall, which was recorded and released as an album and video, also featured guest appearances by fellow Pythons Terry Gilliam, Terry Jones and Michael Palin.

Songs 

Following a "Liberty Bell" overture, the oratorio proceeds in five parts:

Part One: Apocalypso Now
"Chaos and Confusion!"
"There Shall Be Monsters"
"O God You Are So Big"

Part Two: The Boy Next Door
"Mandy's Song"
"Woe Woe Woe!"
"We Love Sheep"
"Spiritual"

Part Three: The Temptation of Brian
"Brian's Dream"
"What Have the Romans Ever Done For Us?"
"The People's Front of Judea"
"I Want to Be a Girl"
"The Market Square"
"You're the One"

Part Four: Baroque and Roll
"Hail to the Shoe!"
"Amourdeus"
"The Chosen One Has Woken!"
"When They Grow Up"
"Take Us Home"
"The Chosen One" (cont.)
"Individuals"

Part Five: Miserere Loves Company
"Find Your Dream"
"Arrested!"
"A Fair Day's Work" (includes reference to "The Lumberjack Song"
"The Final Song"
"Always Look on the Bright Side of Life"
Encore: "The Lumberjack Song"

By David Morgan, 2014
Album of the show available
here
DVD of the live show available
here