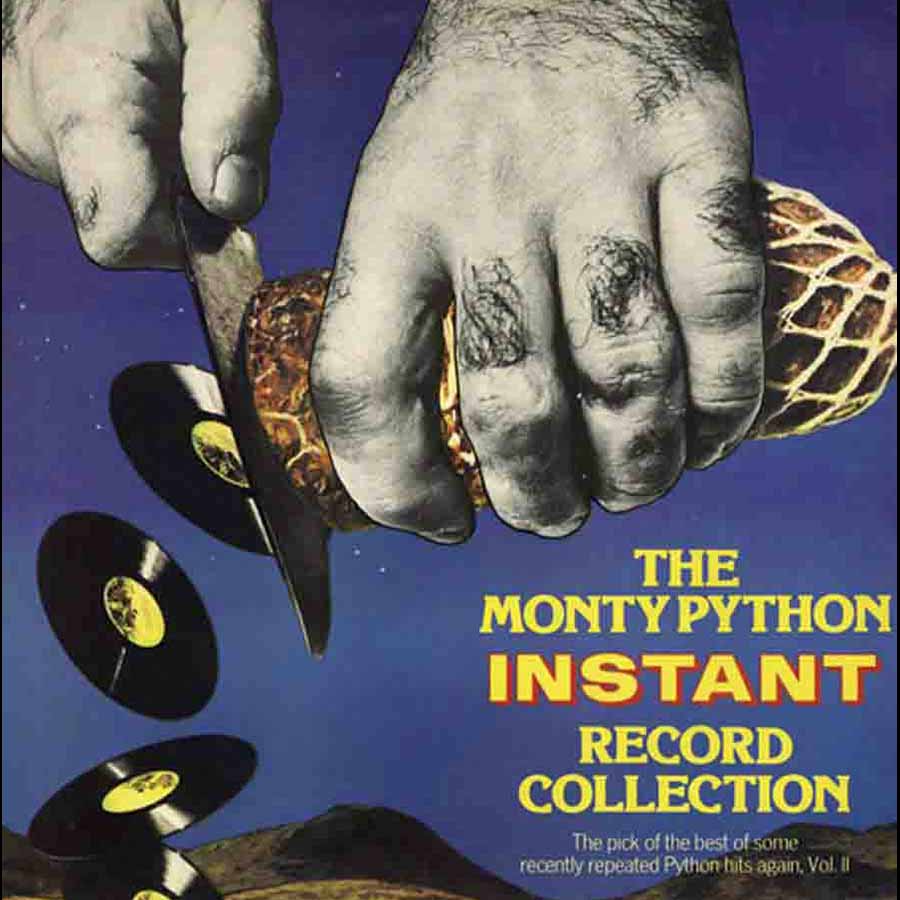 The Monty Python Instant Record Collection (1977)
"The Monty Python Instant Record Collection: The Pick of the Best of Some Recently Repeated Python Hits Again, Vol. II"
Compilation released by Charisma Records
Producers: Eric Idle, Nancy Lewis
LP release: 1977
CD release (by Virgin Records): 1989
Also available as digital download

The original sleeve of this compilation album, designed by Terry Gilliam, folded out into a 12-inch cube mimicking a stack of records - a true "box set." Among the record albums in the stack: "My Brain Hurts" by the Moron Tabernacle Choir; "The Dave Clark Five's War Speeches"; "My Way or Else" by Frank Sinatra; and "I've Got a Beer Glass Sticking In My Head and Other Rugby Songs."


A different track listing was used for Arista Records' U.S. release in 1981.

A Bit More Background
Under the headline, 'Would You Buy A Totally Useless But Rather Amazing Album Cover From These Men?', Terry Gilliam and Graham Chapman appeared in the pages of UK music paper Sounds in 1977 to promote "The Instant Monty Python Record Collection". Of the album's elaborate, fold-out packaging (which revealed a stack of 52 totally fictitious albums), Terry Gilliam revealed, "The record company wanted a 'best of' collection out before Christmas, we were not very keen as it goes against our doing new things, but we bargained and said that the record would be okay if we did the sleeve."

Gilliam admitted, "It not only looks expensive to do, it is expensive, so much so that we have gone halves on the costs. But I think that as the material is old then at least we should give people something new, something good to look at. Also, I believe that people do buy 'Best Ofs' who don't buy all the other albums…" In reference to the then-recent BBC repeats of the series, Gilliam continued, "Then there are people who have only recently caught up. At the same time I think it is terrible for the people who already have our albums. It's a crummy thing to do to them!"

Perhaps as a sweetener, "The Instant Monty Python Record Collection" is notable for featuring a previously unreleased sketch – a studio version of "The All-England Summarise Proust Competition", a sketch which incurred the wrath of BBC censors with one of the contestants referring to his main hobbies as: "Strangling animals, golf, and masturbation." As New Musical Express noted at the time, "Masturbation is right out, said the BBC. Strangling dogs is cool. But no wanking. And no wanking while you're strangling that dog."

The offending word was snipped from the original broadcast version of the sketch, and so until the sketch was restored for BBC repeats and certain home video releases, this album was the only way to hear the sketch in its unexpurgated form. A leftover from "Monty Python's Previous Record" (although the album confusingly includes a credit for "Proust Song"), it remains a rogue track in the Pythons' discography since the album was deleted. It's thought that the sketch was omitted from the album after it was premiered to a less than amused audience at the Great Western Festival, where Python debuted the sketch to a live audience several months prior to their third series appearing on BBC 1.

The album also included a new spoken introduction for "Alistair Cooke Being Attacked By A Duck", but as it's nothing to write home about, we're writing about it here instead.

By James Gent, 2015
AVAILABLE TO DOWNLOAD
HERE