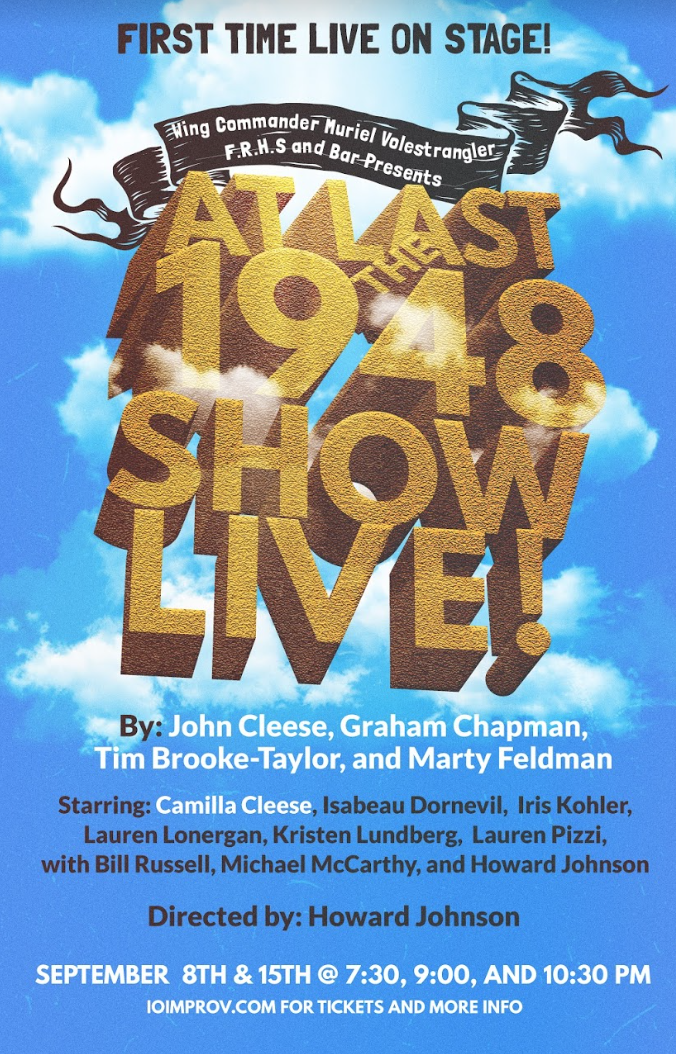 At Last the 1948 Show - Live!
"At Last the 1948 Show—Live" features sketches by John Cleese, Graham Chapman, Tim Brooke-Taylor and Marty Feldman, written and performed just before the four of them would go on to more prominent ventures.

The cast is headed by Camilla Cleese (who is no relation to Chapman, Brooke-Taylor, or Feldman), with Isabeau Dornevil, Iris Kohler, Lauren Lonergan, Kristen Lundberg, and Lauren Pizzi—an all-female cast (if you don't include Kim "Howard" Johnson, Michael McCarthy, and Bill Russell, although they are also in the cast).

The live show is produced and directed by Johnson in association with Wing Commander Muriel Volestrangler, F.R.H.S. and Bar, and the iO Chicago.

"At Last the 1948 Show" aired on British television in 1967. Afterward, the network realized they could save a little money by recording over these comedic masterworks, and it was only through the tireless efforts of Wing Commander Volestrangler and others that copies have been found and scripts reconstructed. While a few of these sketches were later re-recorded by Monty Python, and others can be found in the darkest corners of the internet, many simply don't exist anymore. But now, Chicago audiences can experience them live on stage for the first time ever.

This 50th anniversary presentation came about when John Cleese asked Johnson to mount a Chicago production to try out the material before a present-day audience.

"The 1948 Show was written only two years before Python started, and much of the material could have gone straight into a Python show, without anyone noticing," says John Cleese. "A lot of it, after all, was written by Graham Chapman and myself."

"We have decided to confuse our audiences by changing the gender of the actors," says Johnson. "And to further baffle them, some of the women in the cast are dressing up as men."

"I'm excited to be performing sketches written by my father, presumably in hieroglyphics, at a time when women weren't allowed to be anything more than house slaves," says Camilla Cleese. "I hope we will do justice to the very funny material, and I know we will look better in the dresses."
At Last the 1948 Show—Live will be presented Friday nights at the iO on Sept. 8 and Sept. 15, 2017. For more information click
here
.