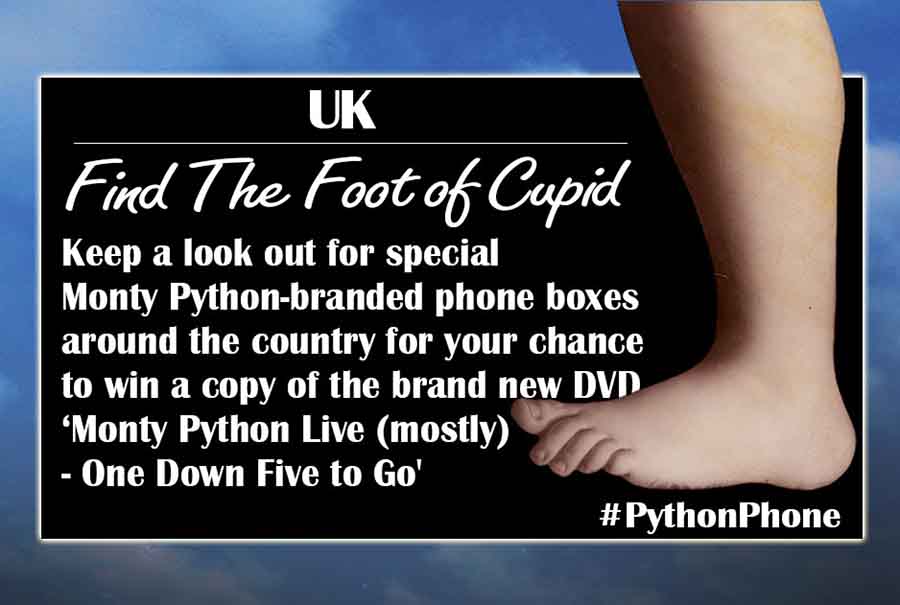 UK ANNOUNCEMENT: Python-Branded Phone Boxes Have Arrived!
558 Monty-Python branded phone boxes have been unveiled around the UK today to mark the release of 'Monty Python Live (mostly) - One Down Five to Go' on DVD, Blu-ray, and Deluxe Edition.

Look- , and listen, out for these phone boxes which can be identified by the 'Monty Python Live (mostly) - One Down Five to Go' poster wrap.

The 558 boxes feature a QR code on the design, which you can scan to hear a special message from one of the Pythons. Each day the message will change. If you don't have access to a smartphone head to www.PythonPhone.com to hears today's message now.

A number of these phone boxes also have the iconic Monty Python foot on top of them. If you pass by one of these phone boxes and the phone is ringing be sure to answer it to hear exclusive recordings from the Pythons.

Be in with a chance of winning a copy of the DVD, by taking a photo of the phone box and posting it on Twitter or Facebook using the hashtag #PythonPhone. Don't forget to look out for your photo on our Fanwall.

The phone boxes can be found in Greater London, West Midlands, Greater Manchester, Liverpool and Edinburgh, from 17th to 30th November 2014.