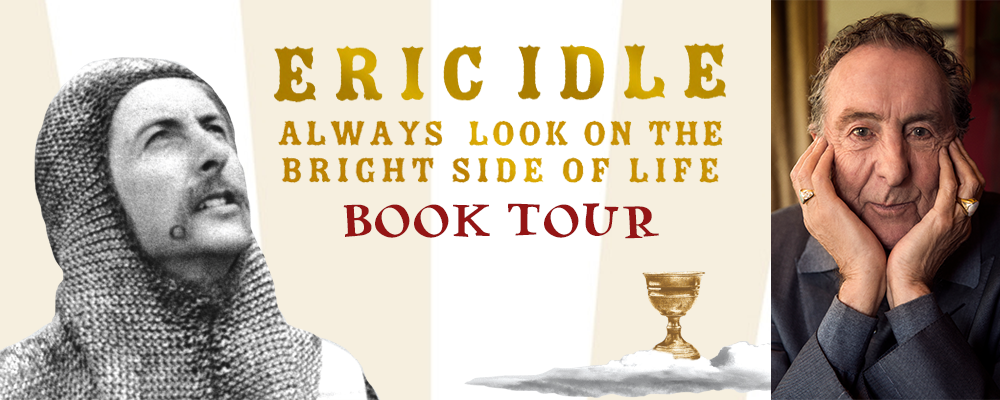 Eric Idle's Book Tour Hits Illinois
The audience at Eric Idle's book interview in Illinois for his new sortabiography, Always Look on the Bright Side of Life, got more than they had expected when his driver took him to the wrong city.


As a result, Eric arrived at the theatre late. One of the spokespersons from Anderson's Books in Naperville, IL, was apologizing to the audience for the late start, when she heard a commotion. Her speech was cut short when she discovered it was Eric with Bob Odenkirk, lugging a guitar and a mic cord, to the cheers of the crowd and a standing ovation.

"Our driver took us to Aurora," explained Eric, "so we're going to do the sound check here."

And that is exactly what they did, to the delight of the audience, most of whom had never experienced the process, checking mic levels and tuning the guitar, while calling one of the sound people on stage with them before they had finished.

Eric's apologies weren't necessary—the crowd loved every minute of it. He began the show by singing a new favorite, "Fuck Selfies," and the audience cheered even more.

Afterward, they settled into their comfy chairs to begin the interview. Bob Odenkirk, star of Mr. Show, Better Call Saul, and Breaking Bad, asked for the secret of the Pythons' success. "We're all overachievers," said Eric.

The interview began by re-living Eric's early years, balancing tragedy and unhappiness with the story of a visit to a theatre where a five-year-old Eric saw a stage full of nude women: "That's when I knew show business was the place for me."

From his twelve years at boarding school at Wolverhampton ("You get less for murder") to his first performance at the Cambridge Footlights, performing John Cleese's "BBCBC," Bob led audiences through Eric's life, as recounted in Always Look on the Bright Side of Life.

The beginnings of Python were also discussed, though as Bob noted, "It's hard to believe when you watch Python that it wasn't a masterminded effort." But as Eric pointed out, during their first meeting with the BBC to pitch their new show, "We didn't know what we were going to do, and we insisted on doing it."

They were given a 10:30 pm time slot on Sunday night "because they suspected that some people stayed up," said Eric, noting that the BBC thought that some of the people coming home from the pubs might want to watch TV.

"It was executive-free comedy."

When Bob pointed out that he was in the audience at the Aspen Comedy Festival when Terry Gilliam kicked over Graham Chapman's ashes, Eric noted that "It may have been the longest laugh we ever had. It was definitely the longest laugh Graham ever had!"

Bob pointed out that so much of Python "feels like it came from one mind." Eric said that "We were writing for ourselves," and explained the process of re-writing and choosing material for Flying Circus. "If it was really funny, it went in the Python pile. If not, we sold it to The Two Ronnies."

After more discussions about George Harrison, Mike Nichols and Spamalot, and the story of a dinner at his house with Peter Cook and Robin Williams, Eric entertained the Naperville crowd with a singalong of "The Bruces' Philosophers Song." He sent the crowd home after leading them in a chorus of "Always Look on the Bright Side of Life."

And after a very successful evening, Eric went off into the night, hopefully avoiding Aurora along the way.

You can find Eric Idle's book tour schedule, and purchase a copy of his new book,
here
.