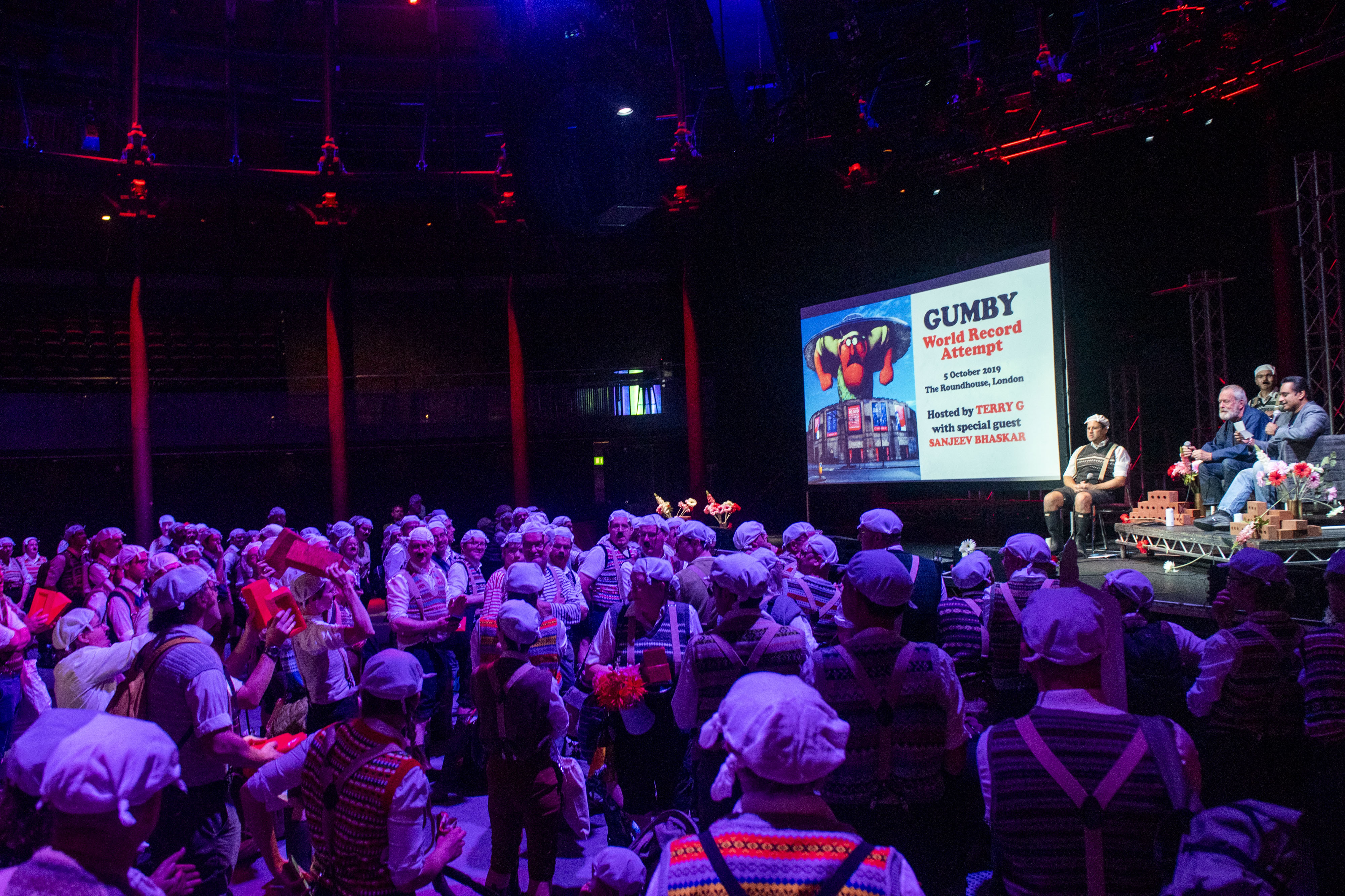 Gumby World Record 2019
On 5 October 2019, to celebrate 50 years to the day of the first broadcast of "Monty Python's Flying Circus" on BBC2, the official Gumby World Record Attempt was held at The Roundhouse in London.

Hosted by Terry Gilliam, with special guest Sanjeev Bhaskar, 100s of men, women & children from all over the UK and further afield including France, Germany, the Netherlands, Bavaria and even Colorado descended upon the venue, dressed as the iconic Monty Python Gumby character, to enjoy Gumby sketches from the newly restored "Monty Python's Flying Circus", a Monty Python sing-along, a Q&A with Terry G and an after party with Terry G, Sanjeev and Monty Python-inspired cocktails.
The rest of the Monty Python team were present as cardboard cut-outs, dotted in between the piles of rubber bricks & flower-arranging stations… and a World Record for the "largest gathering of people dressed as Gumbys" was set.
You can watch our film from the day
here
.
We are also very pleased to share some of the comments from those who joined in the Gumby madness:
Fiona Burt:
Thank you for such a silly day! Really enjoyed meeting so many others with painful brains. Any excuse to be silly on a mass scale.
Ty Davies:
Thank you all for organizing this incredible day… I am still in shock that I got to meet Mr G, Sanjeev. Besides meeting what appears to be a new Gumby family that I never ever thought I would have! Incredible! I doff my Gumby handkerchief in your general direction!
Graham Fletcher-Hill:
Helloooooo!!! Fantastic day yesterday, so glad to know we Gumby minded people remain very much alive across the globe!!!
Jane Dartnall:
THANK YOU to you guys for organising this, and for everyone that turned up and waved bricks around and did things with flowers and made silly noises & sang songs - and just made it one of the silliest and most wonderful days I've had in a long time. When shall we do it all again?
Simon Hopkins:
Well done to all the guys (and Holly) who set up the amazing event yesterday and lets pass a HUGE thanks to the wonderful Terry Gilliam who so patiently met and messed around with virtually EVERYBODY there! I'll never forget the impromptu 'Sit On My Face' song with Terry in the bar! Just a thought... next time... Pepperpots!
Anon.:
Just wanted to say a massive Gumby thanks for Saturday's amazing event! It was just perfect!! I am dealing with a spot of cancer at the moment, but the event made me forget all that nonsense. You pulled off something truly special Saturday.
Purchase your very own official Gumby Kit
here
.
The Gumby soundtrack "Gumby Night at the Python Proms" will be available on
Spotify
later in the month.
The fully restored "Monty Python's Flying Circus" is available now to pre-order
here
.