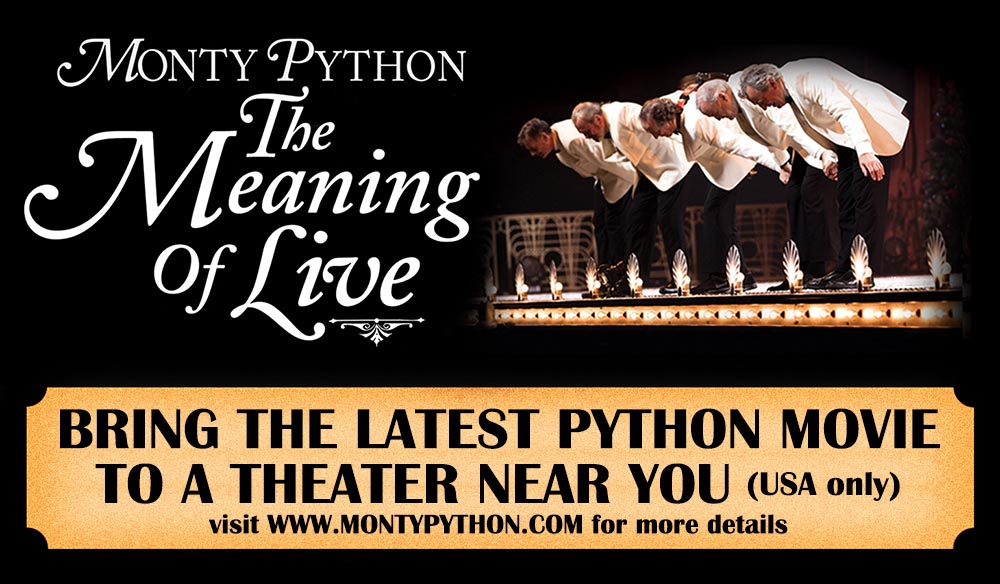 'Monty Python - The Meaning Of Live' Comes to Theaters in the U.S.
We have joined forces with Theatrical-On-Demand distribution company GATHR Films to allow individuals like you the opportunity to organise and promote screenings of the film at your local movie theater.
Here's how it works:
1. REQUEST A SCREENING
Click
here
to request a screening in your city. Choose a location, date and time that will work best for you and your friends.
Requesting a screening is free and Gathr will do all the work to set the event up with the venue.

2. SPREAD THE WORD

Gathr screenings can only happen when we reach our ticket goals so be sure to tell your friends and fellow Python fans to reserve tickets and promote the event. Once your screening is set up, Gathr will send you a screening link so you can share online and track the event.

3. ENJOY THE FILM

Once we reach our ticket goals, the screening is now happening. Continue to promote the event and sell it out.

---

'Monty Python - The Meaning of Live'

This uniquely intimate documentary captures the most anticipated comeback show in comedy, the live reunion shows of Monty Python, 'Monty Python Live (mostly) – One Down Five to Go' at The O2, London in July 2014. As well as following their journey to The O2, this intimate and provocative documentary includes never before seen archive footage from the group's early live shows, including Live at the Hollywood Bowl in 1980. Also, for the first time, the remaining members of Monty Python (John Cleese, Terry Gilliam, Eric Idle, Terry Jones & Michael Palin) open up about their approach to comedy, their worldviews and the tensions within the group. It is a vibrant film that captures the essence of Monty Python and chronicles how this group of diverse talents came together and changed the history of comedy.