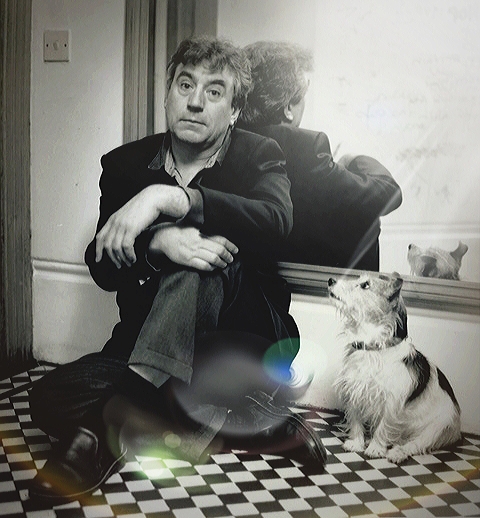 Farewell, dear Terry J
Our dear Terry J died last night, aged 77, peacefully and with his wife, Anna Soderstrom, by his side, after a long, extremely brave but always good-humoured battle with a rare form of dementia, FTD. Over the past few days his wife, children, extended family and many close friends have been constantly with Terry as he gently slipped away at his home in North London.


In a statement,
the family
said: "We have all lost a kind, funny, warm, creative and truly loving man whose uncompromising individuality, relentless intellect and extraordinary humour has given pleasure to countless millions across six decades."

Michael wrote this touching tribute to his dear friend: "Terry was one of my closest, most valued friends. He was kind, generous, supportive and passionate about living life to the full. He was far more than one of the funniest writer performers of his generation, he was the complete Renaissance comedian - writer, director, presenter, historian, brilliant children's author, and the warmest, most wonderful company you could wish to have. I feel very fortunate to have shared so much of my life with him and my heart goes out to Anna, Alison and all his family".

John wrote: "It feels strange that a man of so many talents and such endless enthusiasm, should have faded so gently away... Of his many achievements, for me the greatest gift he gave us all was his direction of 'Life of Brian'. Perfection. Two down, four to go."
Eric added: "I loved him the moment I saw him on stage at the Edinburgh Festival in 1963. So many laughs, moments of total hilarity onstage and off we have all shared with him. It's too sad if you knew him, but if you didn't you will always smile at the many wonderfully funny moments he gave us."

… and Terry G, said: "HE WAS A VERY NAUGHTY BOY!!...and we miss you. Terry was someone totally consumed with life… A brilliant, constantly questioning, iconoclastic, righteously argumentative and angry but outrageously funny and generous and kind human being... and very often a complete pain in the arse. One could never hope for a better friend. Goodbye, Tel."
Writer, journalist & friend of the Pythons, David Morgan, wrote a heartfelt obituary for Terry J
here
, Kim "Howard" Johnson wrote this lovely piece about Terry J
here
, and friend, Eddie Izzard, remembers him
here
.

We are all deeply saddened by this loss, but will celebrate his wonderful life in true Python style.

* Terry chose to donate his brain to dementia research. Shortly after his death the procedure was performed and his brain was added to the bank at the Institute of Neurology, part of University College London, where he was treated after his diagnosis in 2015 with frontotemporal dementia (FTD).