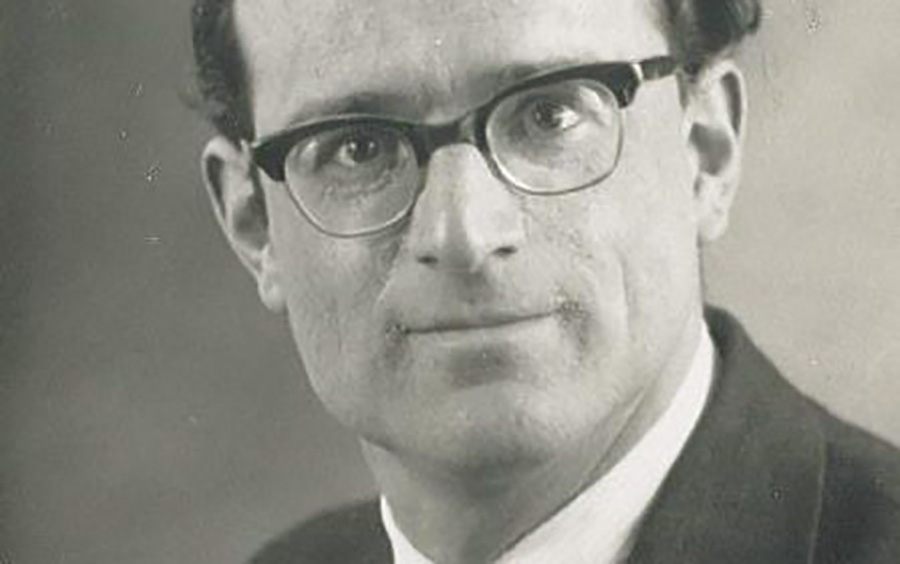 In Memory of Fred Tomlinson (1927 - 2016)
We are sad to announce that on 17 July 2016, singer and choral arranger Fred Tomlinson, the founder and leader of the Fred Tomlinson Singers, who provided vocals for "Monty Python's Flying Circus," passed away aged 88.
On behalf of the Pythons, Michael has written the following about Fred:
Fred Tomlinson and his singers were an indispensable part of the Python TV shows. They had just the right attitude for Python - a willingness to do, wear and sing anything so long as it was different and outrageous. Fred insisted on high standards, and much work and rehearsal went into ensuring that something extremely silly was also extremely polished.
Fred was never rattled and always willing to help out whenever possible. When Terry Jones and myself had completed the lyrics to the Lumberjack Song, I remember calling Fred late one evening and tunelessly singing a sort of cheery version of the song down the phone. By next morning Fred had written the score to the Lumberjack Song, and when we performed it his singers were the backbone of the chorus. The way they played the Mounties was definitive, and reprised later by such as Harry Nilsson, George Harrison and Tom Hanks (at the concert for George)
Fred caught the spirit of Python perfectly. And he loved a challenge. I'm sure we all have nothing but happy memories of a great work-mate. Our sympathies and condolences go out to his family.
Obituary (kindly written by James Gent)
On Wednesday June 27, 2016, composer and arranger John Altman (Monty Python's Life Of Brian) announced on Twitter that singer and choral arranger Fred Tomlinson "who contributed so much to Monty Python", had recently died.
In collaboration with Michael Palin and Terry Jones, he composed those evergreen comedy earworms The Lumberjack Song and Spam Song, as recited in school playgrounds, sixth form common rooms, student union bars and pubs up and down the UK over the last five decades.
His all-male vocal group, the Fred Tomlinson Singers, appeared onscreen in numerous episodes of Monty Python's Flying Circus whenever a musical number was required, whether accompanying Michael Palin's jaunty singalong about life as a cross-dressing lumberjack, extolling the virtues of Spam in full Viking regalia, or performing madrigals about Marcel Proust.
Eric Idle fondly recalled the Fred Tomlinson Singers' willingness to adapt to the silly, surreal world of Monty Python in a June 2014 interview with Uncut: "We had this great singing group called The Fred Tomlinson Singers who would come in and happily climb into Welsh drag for The Money Song and record Sit On My Face for us." On another occasion, Idle observed that Fred Tomlinson's contribution to Python was that "he brought Northern song to Python."
Fred Tomlinson was born in 1927 in the Lancashire mill town of Rawtenstall. He came from a musical family - his father, Fred Tomlinson MBE, founded the Rossendale Male Voice Choir in 1924. Fred's elder brother Ernest Tomlinson, was a successful composer of light orchestral music, of which Little Serenade is probably his most popular composition.
"We were all musical, because my father was very musical; I don't know where he got it from because he was just an ordinary factory worker, but he was a brilliant conductor. My dad was an absolute classic conductor, brilliant."
"We all sang within the choirs, to start with. My mother was musical as well, came from a musical family. We all went to Manchester Cathedral, and there were all three of us in the choir – first time they had all three brothers. So, music's always been with us."
Fred began to develop his skill set as a master arranger under George Mitchell ,the founder and bandleader of the Black And White Minstrel Show, as part of the George Mitchell Glee Club and later the George Mitchell Choir for BBC Radio. One notable engagement was on Tuesday 20 April 1964, when BBC2 was launched and what had always been simply 'BBC television' became BBC1 in order to accommodate the new arrival.
It was in 1969 that Tomlinson found himself at the forefront of a new wave of comedy, when his arranging skills were called upon in-house for a new late night BBC comedy series, Monty Python's Flying Circus.
The exact process of how Fred met the Pythons is lost in the mists of time, as the Pythons' production manager, Roger Last, mused in 2013: "I don't know where the Fred Tomlinson Singers came from, I have no idea. I think it was like how the BBC would always use the same bloke who wrote signature tunes, Ronnie Hazelhurst. They had this set group and they liked him, so they said, we'll have him again, get Fred in to do this. I think the BBC produced them, or Ian (MacNaughton) produced them from somewhere."
Nevertheless, for the episode in question - 'The Ant, An Introduction' - Michael Palin and Terry Jones had written a sketch about a homicidal barber but found themselves in need of an ending, and dreamed up a ditty to wrap it up.
Terry Jones recalled the genesis of this sketch in a 1999 interview with Tellyspotting. "We'd written this sketch about a barber, a psychotic barber, and we were getting a bit stuck with it and we needed to finish. I said to Mike, in the old days, you'd end with a song! Bit of a corny thing to do, but he said, OK, well let's write a song! We wrote I'm A Lumberjack And I'm Okay in about half an hour. I don't know where it came from, but Mike and I just broke the lines, just sitting there together, and they came, and we hummed the tune to each other, and there it was. And then we went to the pub!"
It was Fred Tomlinson who was tasked with realising Palin & Jones' ditty into something hummable. Fred recalls:
"I remember it vividly. I got an audio tape from Michael, and he just sang it roughly, and sent the script, and it went from there... We did the rehearsal run, then the studio. After that, it was, if they needed music - 'Get Fred!'"
The Fred Tomlinson Singers enjoyed a good natured working relationship with the Pythons during rehearsals for the series at the Pythons' regular rehearsal venue, The Old Oak Common, Acton, with frequent breaks for games of five a side football. Fred Tomlinson Singer Michael Clarke recalls, "During breaks we'd play football with the Pythons, and one time suddenly Fred thought John Cleese had kicked him, but in actual fact John had snapped a ligament in his leg!"
Fred Tomlinson's association with the Monty Python phenomenon continued beyond the small screen, as his gang – affectionately known by the Pythons as "the Fred Toms" – loaned their golden throats to musical numbers in their movies (Camelot Song from Monty Python And The Holy Grail, Always Look On the Bright Side of Life in Monty Python's Life Of Brian and Accountancy Shanty from Monty Python's The Meaning Of Life) and the Pythons' much loved run of studio albums for Tony Stratton-Smith's Charisma Records.
In 1975, Charisma released a 45 of The Lumberjack Song, featuring "the voices and feet of the Fred Tomlinson Mounted Singers", produced by George Harrison and recorded at the former Beatle's Friar Park Studios. An alternative mix appears on Monty Python Sings.
In 1989, Monty Python effectively ceased to be, when Graham Chapman died on 4 October 1989, just one day before the team's twenty-fifth anniversary. A memorial service was held at his alma mater St Bartholomew's on 3 December 1989, bringing together the remaining Pythons and the Fred Toms one more time.
Fred recalled: "One of the most interesting things was after Graham's funeral, and there was a meeting for the memorial, and various people spoke, and I remembered that Graham had done one sketch, with Terry Jones as a Japanese director who couldn't pronounce his Ls, and in one of the rehearsals when something had gone wrong, and they were killing time on the floor, Graham got everyone to sing, Jersuarem (sic), and I got everyone to sing it. I had my usual gang. It was quite tricky… Quite tricky, with all those smiling faces around."
Fred's piano accompanist, Jennifer Patridge, remembered: "It was lovely to see them all again at Graham Chapman's Memorial which, though a sad occasion, was full of laughter."
On a happier occasion, Fred Tomlinson and his singers briefly became bona fide pop stars, accompanying Eric Idle in a rendition of Always Look On The Bright Side Of Life on Top Of The Pops in Autumn 1991, after Virgin's re-release of the song scaled the top ten, reaching the dizzy heights of number three in the charts.
"Yes, with Top Of the Pops, with Always Look On The Bright Side Of Life, how they do these things, they don't tell you for certain, until the beginning of the week, that you might be on, so I didn't get to see Bob (Hunter) and the lads until the actual day, when we did it on telly at half past seven, so we just had to make it up as we went along. When it came to it, the audience knew it better than we did, they all joined in, and it was just fantastic."
Once a lumberjack, always a lumberjack, and on 29 November 2002, at a concert commemorating Fred's one-time producer George Harrison, on the first anniversary of his death, the Fred Tomlinson Singers took to the stage one more time, to extol the virtues of chopping down trees and wearing suspenders and bras. They were joined by Michael Palin, Eric Idle, Terry Jones, Terry Gilliam, Carol Cleveland and Neil Innes. On this occasion, the Fred Tomlinson Singers gained a new alumnus, as Tom Hanks joined the Mounties chorus
Fred Tomlinson died at his home on Sunday 17 June 2016. Fred Tomlinson's funeral will be held on Wednesday 3 August 2016, at Breakspear Crematorium, Breakspear Road, Ruislip, HA4 7SJ at 1.15pm.