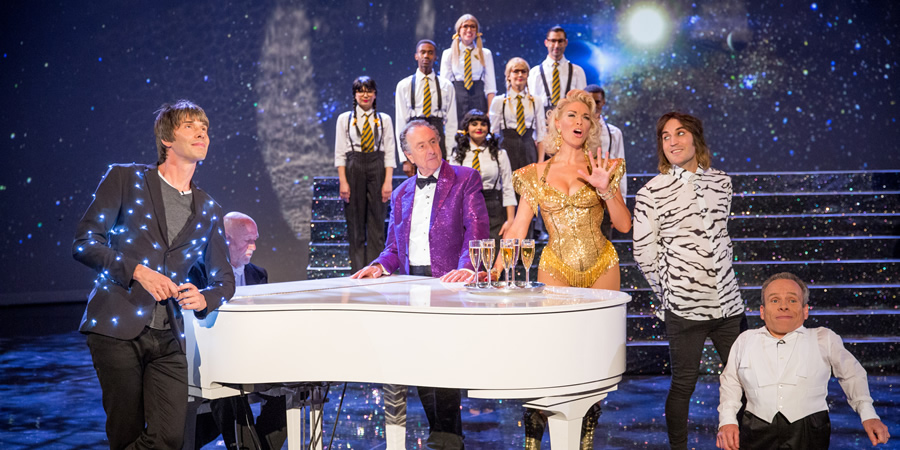 Eric's "The Entire Universe" to Premiere on BBC2 on Boxing Day 2016
Forty one years ago Rutland Weekend Television presented a Christmas Special on BBC2 starring Beatle George Harrison. Now through lack of popular demand, it's back. This time the special guest star is Professor Brian Cox.

In the show, Professor Brian is late arriving from Patagonia where he's been out of all cell phone touch and so doesn't realise that his 'lecture' about the birth of The Entire Universe is in fact a musical extravaganza arranged by Eric Idle and Robin Ince alongside The Muriel Tritt School of Music and Dance.

The Entire Universe also stars Warwick Davis, Noel Fielding and Hannah Waddingham with a very special guest appearance from astronaut Tim Peake. It is illustrated with songs by Eric Idle and John Du Prez and choreographed by Arlene Phillips.

The show will air on BBC2 on Boxing Day (26 December 2016) at 21.30, with broadcasts around the world to follow.

Eric Idle says: "I am very pleased that Rutland Weekend Television is back on BBC TV with a Christmas Special only 41 years after its last one. The world's smallest TV station takes on the world's largest subject: the entire universe. It's fitting that 41 years after Rutland Weekend Television produced a Christmas special with George Harrison, it is back with the Beatle of Science, Brian Cox. No doubt what Rutland did for TV in the 70s it will now do for science - and set it back 40 years."

Brian Cox says: "I've made many television documentaries over the years, and a constant complaint has been that the music is too loud and obscures the science. This undermines my credibility as a serious scientist. I expect The Entire Universe to be the final nail in the coffin."

Warwick Davis says: "I'm thrilled to be hitching a ride on a musical journey through time and space with Prof Brian Cox! (Not words I'd ever thought I'd write in the same sentence). And the icing on this galactic cake is that the show is written by and stars my old chum, Eric Idle."

Noel Fielding says: "Absolute dream to be working with Eric Idle and the rest of the case. Can't wait to explore the Universe together through the medium of dance."