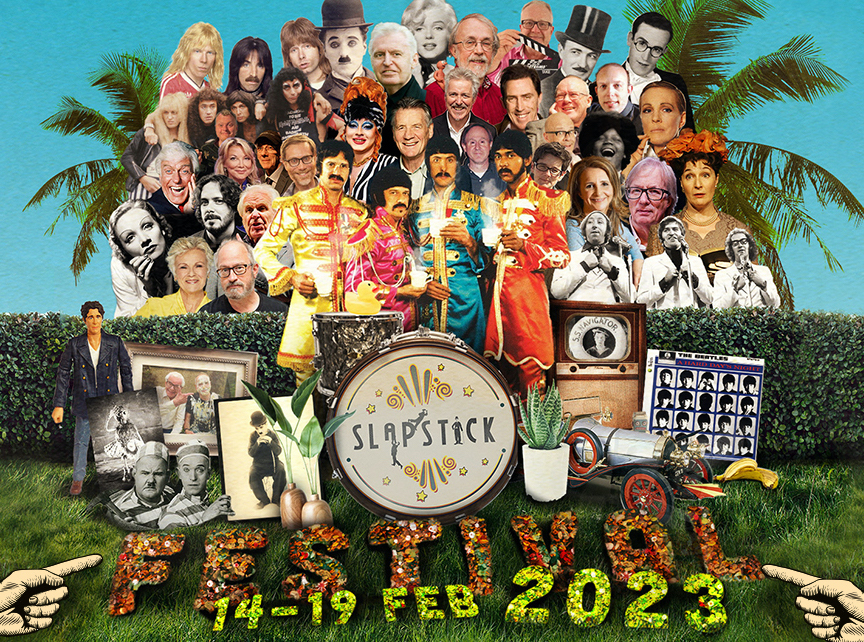 Slapstick Festival February 2023
Europe's biggest festival of silent and classic screen comedy, Slapstick, returns to Bristol, UK this February, with its 19th annual celebration of more than a century's worth of laughter-makers & live appearances by a host of top current day entertainment stars.

In all, Slapstick 2023 will present 32 events at venues across Bristol and host live appearances by Sir Michael Palin, Rob Brydon, Graeme Garden, Harry Hill, Robin Ince, Stephen Merchant, Nigel Planer, Lucy Porter, Griff Rhys Jones and all three members of The Scaffold, among many others.

Michael Palin & Monty Python highlights include:

Stephen Merchant quizzing Michael Palin about the making of the Python film which sparked international controversy - and hilarity - ahead of a big screen showing of LIFE OF BRIAN which will be followed by a chat between Sir Michael and Rob Brydon.

A screening of MONTY PYTHON & THE HOLY GRAIL at Bristol's former IMAX cinema - no longer using the IMAX format but containing the biggest screen in the Westcountry.

And... MONTY PYTHON'S BOOK SHAMBLES, hosted by Robin Ince and special guests.

Full details of the Slapstick 2023 programme and booking options available on the festival's website: www.slapstick.org.uk. Slapstick news can also be found via the festival's Facebook, Instagram and Twitter accounts.