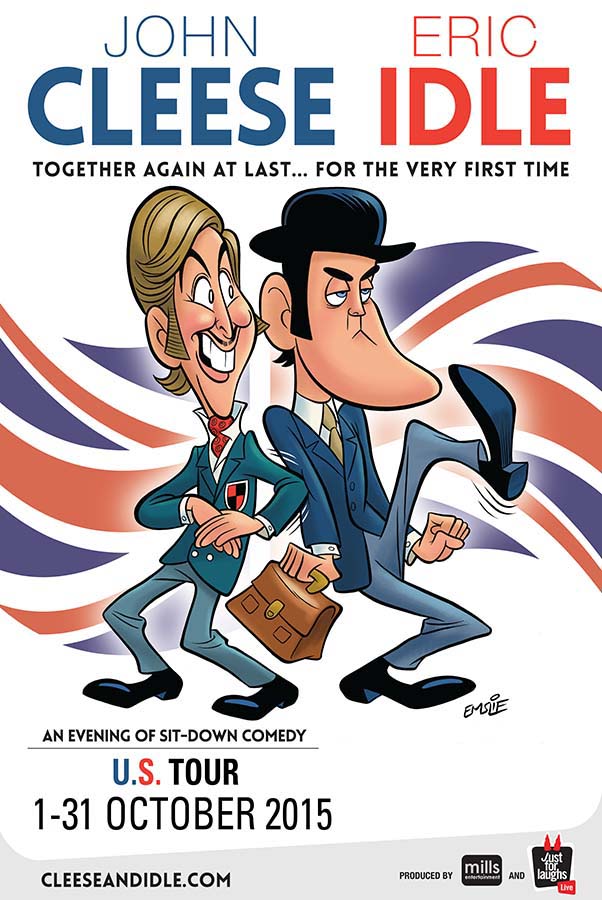 John & Eric On Tour - October 2015
John and Eric today announced the first leg of U.S. tour dates for their new show "John Cleese & Eric Idle: Together Again At Last… For The Very First Time", with tickets going on sale this Friday 19th June.

Running from October 1st to 31st, the tour will see them perform sit-down comedy at premiere venues in Sarasota, Ft. Meyers, West Palm Beach, Miami, Clearwater, Orlando, Savannah, Atlanta, Charlotte, Baltimore and more!

The show will "blend scripted and improvised material with storytelling, musical numbers, exclusive footage, aquatic juggling and extended audience Q&A".

John and Eric had this to say: "Yes, most of the shows are in Florida. Yes, this is a deliberate ploy to score a free vacation… England is very dreary come October".
Eric added: "We are touring Florida in October to seek our peer group of the elderly avoiding winter..."
And on hearing the news, Terry J exclaimed: "Good Show! It's time those two got together!"
For full tour dates and links to tickets, visit the show's official website
here
.