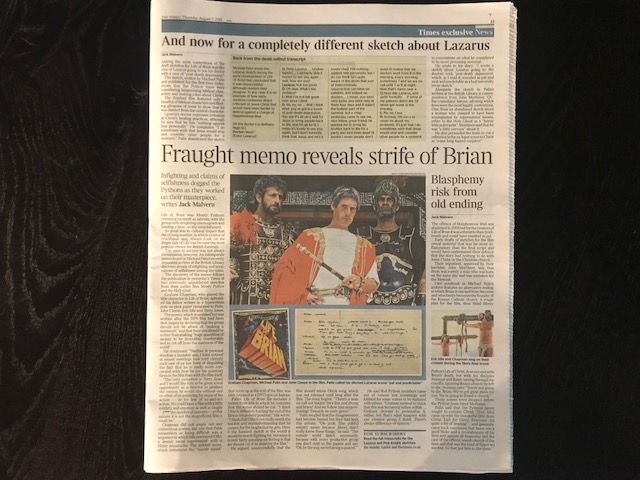 Michael Palin's Archive - Part 2
The Times of London, today, unveiled more unseen scripts, 'lost' sketches and notebooks from Michael's private archive.

Today's article focuses on "Monty Python's Life of Brian" and features the Back From The Dead sketch which sees Lazarus visiting his doctor with 'post-death depression' which didn't make it into the final film because, Michael says, it was deemed "as predictable as a bad university revue sketch."

Also unveiled is correspondence from John Mortimer QC, the Pythons' lawyer at the time. Mortimer was responsible for identifying which lines and sketches were most legally controversial and those that could be considered blasphemous at the time. The correspondence shows that early versions of the film's script were "far more inflammatory than the final script and would have undermined their defence that the story had nothing to do with Jesus Christ or the Christian Church."

An alternative ending, which sees Brian being "rescued from the cross and reluctantly becoming the founder of the Roman Catholic Church," was found in one of Michael's notebooks.