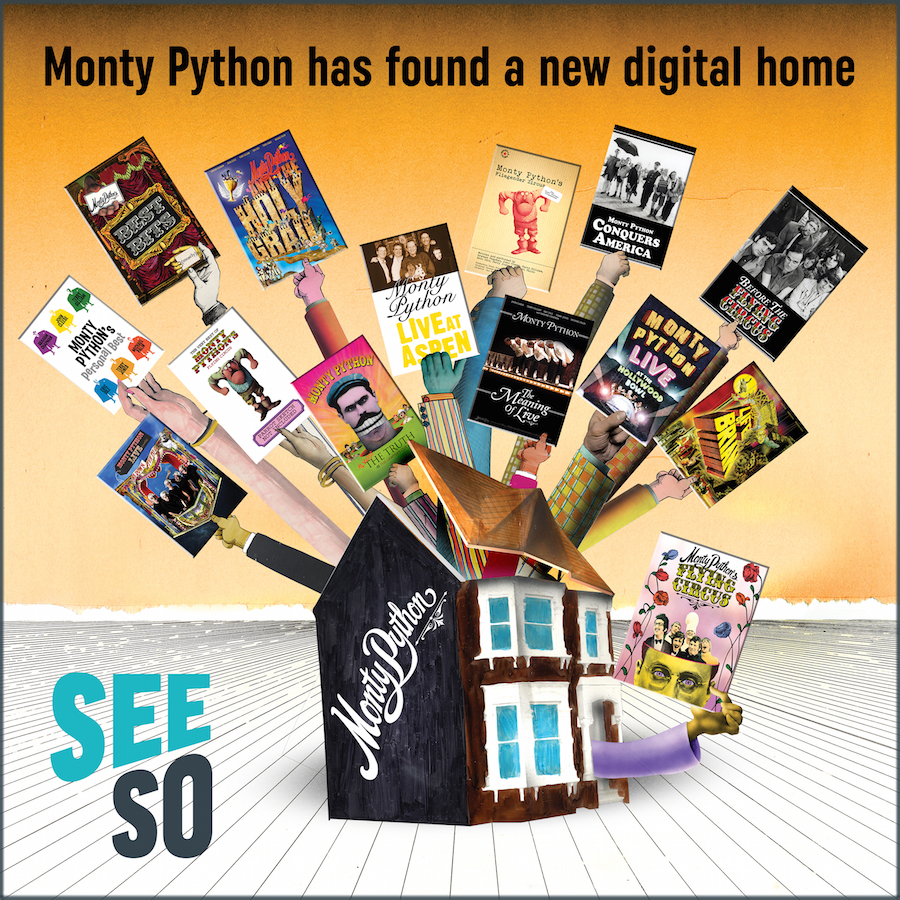 Monty Python Now Available on Seeso (US only)
Newly re-mastered and remixed HD editions of "Monty Python's Flying Circus" and other Python classics, including "The Meaning of Life," "Holy Grail," and "Life of Brian" have been added to the library of NBC Universal's new ad-free streaming comedy channel, Seeso.

To celebrate this new digital home for Python, Terry G designed the above new artwork accompanied by this statement:

New Gilliam artwork approved by The Department of Homeland Security!

In this dangerous and frightening world, thanks to the internet and our partnership with Seeso, all things Pythonic are now safely within your reach. No need to ever to leave the security of your home. Or your couch.

Dr. Gilliam recommends a daily diet of comedy for a healthy life. Yum yum.
Other doctors say "get off your fat asses and get a life"

... and the God animation from "Monty Python & the Holy Grail" was used in the official Seeso explainer video, which you can watch .

Seeso is now available on www.seeso.com, iOS and Android platforms with additional platforms being added in the coming months. Subscribers have access to over 2,000 hours of original content, with new, original content rolling out daily; access to Seeso's full and growing library of stand-up comedy, and Seeso's rich library of classic comedy content like "30 Rock," "Fawlty Towers," "Parks and Recreation," "Saved By the Bell," "The IT Crowd," "The Mighty Boosh," both the US and original UK versions of "The Office, " and every season of "The Kids in the Hall," remastered into HD. Additionally, next day, full-length episodes of "The Tonight Show Starring Jimmy Fallon," "Late Night with Seth Meyers" and 40 plus years of "Saturday Night Live" will be available.