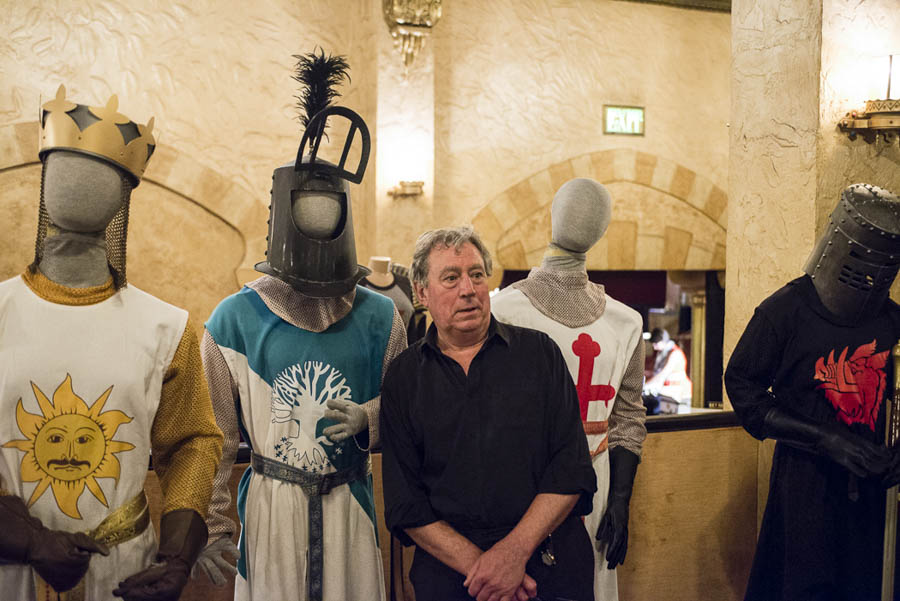 Terry J Invades Atlanta
Thank you Atlanta. You made Terry Jones very happy, not to mention several thousand of his friends! Terry's appearance at Dragon Con and hosting a Monty Python and the Holy Grail screening at the historic Fox Theatre, made for a memorable first visit to Atlanta the weekend of September 5th.

Dragon Con kicked things off with a signing for Terry on Saturday afternoon. The line was incredible, but thankfully everyone was patient, and got to greet Terry in person (not to mention getting autographs and photos!). We had a gaggle of Gumbies, the Bishop, and an incredible array of other costumes waiting in the queue.

Saturday night, Terry had dinner with Trace Beaulieu (of Mystery Science Theatre 3000), Scott Adsit (of 30 Rock), and me. The conversation was so lively that we almost missed Terry's surprise cameo at the conclusion of the Dragon Con concert. The 2000 people in the huge hall saw Trace and Scott scamper across the stage clapping coconuts, followed by a fan in a Sir Lancelot costume (me), followed by another figure in a Sir Bedevere tunic and helmet. When he stopped at center stage and took off his helmet, the crowd could see it was the real Terry Jones, and the ovation almost blew the roof off the place! Then Terry led the whole group in Always Look on the Bright Side of Life, and the evening was complete.

Sunday morning was Terry's first panel, 57 Minutes with Terry Jones. He entertained the packed house reading from his Life of Brian journal, and answered audience questions. When we discussed how he directed himself in a scene, we brought up Trace Beaulieu and Frank Conniff--MST's mad scientists--to read a scene with Terry. In fact, it went so well that Terry agreed to do another scene, and so we brought up Scott Adsit and Bill Corbett, along with a few volunteers from the audience, who were thrilled to be sharing the stage with our all-star panel. A complete success, judging from the roars from the crowd! Another signi9ng session followed a couple of hours later, and we celebrated with dinner at a local microbrewery where Terry--always a beer connoisseur--picked out some outstanding brews.

Monday's panel kicked off at 10 am, with a huge crowd despite the early hour. I've shown my Life of Brian pictures before from my Monty Python's Tunisian Holiday book, but never with such an illustrious commentator as Terry by my side! We reminisced about the making of the film, with its own anniversary coming up in 2019. And we finished off with another scene, which included our new best friend Scott Adsit, along with several audience volunteers and the entire crowd joining in as we projected the lines on the screens overhead. Awesome. We wrapped up Dragon Con with one last signing and a return to the microbrewery that evening.

Tuesday featured lunch with our Dragon Con handler Jess (Codename: Cinnabuns), who took us to her favorite pub. Then, we prepared for that evening's 40th anniversary screening at the Fox Theatre. We were picked up by an old friend, and Atlanta-area photographer, Bryan Willy, who would be snapping shots of Terry throughout the evening.

At the Fox Theatre, Terry admired the display of Holy Grail costumes set up by Museum Replicas Inc. who, fortunately, are located just outside Atlanta. The Bedevere tunic and helmet they created were amazing, down to the visor that constantly needs to be lifted, and Terry took to it immediately. And, he noted that this was the first time he'd worn the Bedevere helmet since the filming over 40 years ago!

The audience reaction to the film was wonderful; Terry and I slipped into the audience and watched along with them as they recited lines along with the onscreen Pythons. At one point, I think virtually the entire audience was calling "Ni! Ni!" at that point in the film. At several points in the film, Terry leaned over with comments and memories of the filming and the cast of extras, giving me even more of a background than I'd already had. Toward the end, we had to slip out of the theatre and slip into the Bedevere and Galahad costumes.

As the film ended, I clapped coconuts ahead of Terry's entrance. When he removed his helmet, there was another riotous reaction from the 1600+ people in the audience. I read questions that were submitted by the audience and Terry provided an assortment of answers, and we took volunteers from the audience to re-enact a couple of sketches, which was a huge crowd pleaser. When we finished, we had just enough time to send everyone off with a song on their lips, singing "Always Look on the Bright Side" as Terry exited to a huge ovation.

Huge, Mr. Creosote-sized thanks to Ken Plume for introducing us to the mad wonderful world that is Dragon Con, and to everyone at the amazing Fox Theatre for all of their help. It was Terry's first trip to Atlanta, but based on the incredible reception, it may not be his last. It was a great ending to a great week.